AT&T Collaborate
Simplify your communications so that you have what you need for your business now, with room for future growth. You know that your employees are looking for similar communications tools and applications on the road, and in the office, regardless of the type of device they might use.
Everyone wants to be able to speak to colleagues or clients and collaborate with off-site associates in the same manner.
AT&T Collaborate offers a flexible hosted voice solution that gives you the traditional voice features you need and the collaboration tools you want, regardless of
your work location.
---
Dedicated Internet with Voice Bundle
Staying connected to a distributed workforce with voice and Internet services is key to business growth and productivity.
AT&T Dedicated Internet with voice bundle can help you converge your voice and data communications to deliver business critical services cost effectively, with a single solution to connect employees and multiple offices
Integrated offer includes VoIP and symmetrical
AT&T Dedicated Internet connectivity (identical
download/upload bandwidth)
Guaranteed on-time VoIP service activation, with industry leading Service Level Agreements for AT&T Dedicated Internet.
One contract, one invoice, one source for support
---
Mobile Plans
Empower your employees to better connect with your customers using their smartphones with features traditionally available on office or business desk phones.
Auto Attendant – Automatically route calls to select employees
• Hunt groups – Route calls to a defined list, sequentially or simultaneously
• Extension dialing – Connect to your employees even faster
• Locate Me – Employees can set up customized call routing based on personal preferences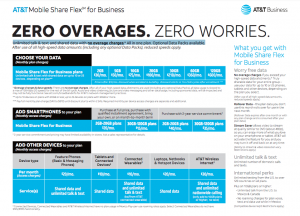 • Single outbound number ID – Have your business phone number appear on the Caller ID for all of your users. Customers see one consistent number regardless of caller.
• Enhanced Mobile uses the Native Dialer of the smartphone, meaning users do not need to change the way they make and receive calls today, creating an easy-to-use and seamless integration.